CAMP CRESCENDO is a summer music camp designed for children grades second through seventh!

Camp Crescendo Idaho costs $360 per session.
WHAT SHOULD YOU BRING TO MUSIC CAMP?
Sleeping bag, pillow, washcloth, towel, toilet articles, flip flops, swimsuit, sunscreen, insect repellent, warm coat, flashlight, clothes for all kinds of weather, ukulele, guitar, or keyboard (if you chose one of those as an elective class), TALENT SHOW IDEAS AND MUSIC!
• CAMP CRESCENDO T-Shirt
• CAMP CRESCENDO Class Evaluations
• CAMP CRESCENDO Photo
• CAMP CRESCENDO Songbook
• CAMP CRESCENDO Certificate
• CAMP CRESCENDO Nametag
• EXPERIENCES & FUN WITH MUSIC!
HOW MUCH MONEY WILL YOU NEED?
Snacks as well as musical items will be available for campers to purchase. For your protection, your money will be deposited in the CAMP CRESCENDO BANK upon your arrival at camp. At appropriate times during the week, you will have access to your money. Any remaining money will be refunded.
WHAT IF YOU GET HURT?
Included in you camper's fee is a Group Accident Insurance Policy provided by CAMP CRESCENDO.
WHEN DO YOU ARRIVE AND DEPART?
Session I: June 8 - 13, 2008
Session II: June 15 - 20, 2008

Registration schedule for Camp Crescendo Idaho:
June 8 (Session I),
June 15 (Session II),
3pm (A-K)
4pm (L-Z)

DEPARTURE FROM CAMP WILL BE AT 2:00pm FRIDAY AFTERNOON FOLLOWING THE CAMP CRESCENDO PRODUCTION AT 1:00pm FOR FAMILY AND FRIENDS.
CLASSES! Every camper will participate daily in three elective classes and three required classes (ie Classy Creations, Jazzy Jeopardy and Choir.)
FUN! FUN! A theme for camp is used each year to give continuity to the week. It involves the projects for Classy Creations, songs performed at the final production and cabin fun!!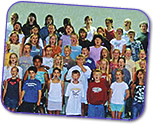 ACTIVITIES! Camp Crescendo also offers outdoor activities such as Volleyball, Games and Water fun.
EVENING ENTERTAINMENT! Activities include Talent Shows, Movies, Dances, and of course, a nightly Campfire Sing-a-long!
The fun filled week is culminated in an hour long performance for friends and family on the final day!